Another reminder that we'll be closed from Sun July 30 through Mon Aug 14. We apologize for any inconvenience this may cause.
JENNYCAKES NEWS:
Return of some favorites!
Making their triumphant return to the bakery line-up are the lemon ricotta cookies, the key lime/mango cupcakes, the blueberry crumb bars and our ice cream cookie sandwiches. *** Don't forget to check out not only our two cases, but the refrigerator right inside the front door where we keep some of our goodies that melt easily in this weather. ***
New stuff I'm working on!
Fluffy cheesecake bars with a thick graham cracker crust — something like these but even fluffier.  
A tres leches cake with fruit.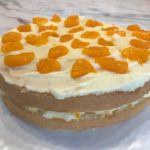 A mandarin orange cake/cupcake based on a really yummy grapefruit Brown Derby cake that a customer asked me to make for him this past winter. Here's a preliminary attempt at one — tasted great, especially the longer it was chilled, but need to work a bit on appearance! 
We'll let you know when we're happy enough with these to start selling them!
Stuff that is coming up!
Labor Day (Monday, Sept 4) when we hand out free chocolate chip cookies after the parade!
Our final installment of Meet the JennyCakes staff! Meet my husband Doug, daughters Lily and Geneva, as well as staff members Gabi, Anna, Sam and Payton.
When I proposed opening a bakery to my logic-driven husband Doug, he had all kinds of reservations. After lengthy discussions about the pros and cons of doing it, he finally said, "But it WOULD mean that on Mondays I could bring leftovers into my office. Hmmm…"  That's when I knew he was on board. He has helped in every difficult aspect of owning and operating a bakery — from negotiating the initial lease and acquisition of equipment from the old bakery to dealing with a long-term incredibly-frustrating plumbing problem (which appears to at last be resolved) to figuring out how and whether to expand into the space next door. But most importantly, every three months or so he has found a way to calm down a wife who periodically falls apart because she is having trouble figuring out how to own and operate a bakery! He works every Saturday from 4 on, pretty much single-handedly washes and folds the millions of aprons and rags we use at the bakery, hauls nearly all of our recyclables home every week and does many more things around the house than I do even though he's a full-time partner at a law firm! Obviously, JennyCakes would not have happened and would not still be here today without the incredible amount of support he's given it.  Thanks, honey!

Lily, my daughter who is now age 17, helped convince me to open the bakery way back in 2012 when she was 12. Our brains are scarily in sync. When we work together at the bakery, I'll say, "Lily, can you…" and before I get any further with my question, she'll say, "Yep, I did that" and she has!  She is great at keeping track of several things at once and she quickly picks up on all the little detailed things we are constantly tweaking.  I personally love having her at the bakery because it's the only time she admits that I can occasionally be funny.  🙂
Geneva, my daughter who is now age 15, helped convince me to open the bakery way back in 2012 when she was 10. She knows how to do literally everything at the bakery from checking the oven to doing dishes to making batters to answering the phone to running the front counter.  But she won't let me pay her. Her reasoning cracks me up: she doesn't want the pressure of keeping up with her bakery work at the expense of being able to chat with everyone there! When we first opened, one of my favorite things was to listen to Geneva and Kara Knips (a beloved bakery alum) play the "Question Game".  
Geva: Kara, what's my favorite color?  Kara: Green.  Geneva: Right!
Kara: Geva, what do I plan to have to eat at my wedding reception.  Geva: a Chipotle buffet!  Kara: Right!  
The game spilled over to other people at the bakery and became a fun way to get to know each other during the somewhat quiet hours of Sat morning before it got crazy.  And by the way, Kara is getting married sometime around New Year's and she is NOT having a Chipotle buffet!

Gabi came to us when she was just 14 through an internship program at her school, The Siena School. One cold, dark night when her mom was picking her up from her internship, I remember running out to her car to ask her mom how much free time Gabi had during the year because I REALLY wanted to hire her RIGHT THEN! And when I get a bee in my bonnet, it's hard to distract me. 🙂 So, since her internship Gabi has worked for us, fitting us in around an already busy school schedule. Now, at the ripe old age of 16, she is essentially in charge of the final weekly clean-up of the bakery every Saturday afternoon. 

Anna (pronounced Ah-na when you see her!) joined us last fall after I saw a cake she did on facebook with buttercream rosettes. Because she has been very active in ice hockey, dance and lots of Einstein HS activities, we haven't been able to involve her much in the decorating side of things yet, but hopefully we'll be able to do that a bit this summer.  During the course of this year, she has demonstrated that she's a hard worker on Saturday afternoons when we do our weekly "deep cleaning" of the bakery, but she's not above having a bit of fun.  Rumor has it that on occasion she will do a few dance steps in the kitchen when she thinks no one but Gabi is looking. 🙂
Samantha began working at JennyCakes this past spring. She is a fierce froster of cupcakes and great at keeping track of what is needed in our cases. She's incredibly smart, hard-working and fastidious about getting done what needs to get done.  I can hand her a list of outstanding orders on Saturday morning and an hour later, everything is completed and done perfectly. We are really going to miss her when she heads to the College of William and Mary in the fall.
We sure wish we found Payton earlier than a couple months before her graduation from WJHS! Such a find. AMAZING at frosting and decorating our very popular cut-out cookies (much to the relief of Ingrid and Kristen who had been splitting their time between 10,000 cakes and the cut-out cookies), quick to catch onto all the ins and outs of the bakery, great under pressure and fun to be around, she has been a HUGE asset.  We will be really, really sad when she heads to the University of Charleston in the fall and we REALLY wish her university would ease up on the amount of time given to students for vacation so she can come back and work for us more during her breaks.  Is that selfish?