Modified schedule for Dec 22 to Jan 1

Fri  12/22

       

OPEN 8am to 7pm
Sat 12/23

       

OPEN ONLY FOR SPECIAL ORDER PICK-UPS so we can prepare Xmas orders 
Sun 12/24

     

OPEN 8am to 2pm
Mon 12/25     CLOSED so our staff can recover from the holidays!
to Mon 1/1

Tues 1/2        Back to our usual schedule – OPEN 8am to 7pm
What's Available at the Bakery Now

As we head into the holiday season, we are already stocking our cases with  lots of goodies, including jam thumbprints, pecan snowballs, Scottish shortbread, frosted sugar cookie bars, decorated Christmas cookies, chocolate cupcakes with peppermint buttercream, gingerbread boys and girls, and rum bites and cupcakes. 



Christmas Orders!
We hope to accept Christmas orders through Sun 12/17, unless we reach capacity before then. I will post something at the top of our website if we close out orders before Sun 12/17.
All orders must be picked up no later than 2pm on Sun 12/24. 
The specific items available for Christmas orders are listed below.
 

We hope you have a wonderful holiday!
 

Jenny
Christmas Goodies!
buche de noel  

pumpkin roll (with or without toasted pecans)

pecan pie (with or without bourbon)

apple pie with streusel

pumpkin pie

dark chocolate cream pie

key lime pie

any of our cakes

any of our smaller items, such as cookies and cupcakes, 

BUT ONLY IN BATCHES OF 12 OF A PARTICULAR FLAVOR/BAKED GOOD

 (or in batches of 24 if ordering mini cupcakes)
For the smaller items, if you would like a wider variety, please consider stopping by the bakery on Sun Dec 24 between 8am to 2pm.  We will be fully stocked with our usual items and you will be able to pick and choose. We would suggest you come early though because we are likely to sell out quickly. Thanks! 
Location & Hours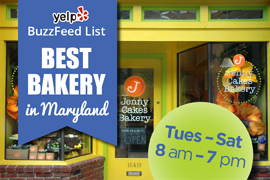 HOURS
Tuesday through Saturday 8 am - 7 pm
LOCATION
10419 Armory Avenue
Kensington, Maryland 20895
ORDER
Please visit our Menu & Order page. But, if you'd like to place a same day order (which we try our best to accommodate), call Jenny at 240-388-9989.
For special orders, email Jenny at jenny@jennycakesbakery.net.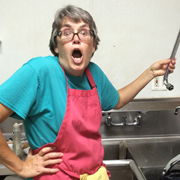 Connect With Us!

Like us on facebook
to receive our updates in your FB feed!

Follow us on Twitter

Email This Page

Read our 5 star reviews!