Welcome to JennyCakes Bakery, a tiny bakery with a BIG heart! We opened in April 2012 with the hope of creating a cheerful place where people could buy baked goods that look and taste like food baked in a cozy kitchen at someone's home. We love it that we know the names and favorite orders of many of our customers. We love being nestled into such a bustling community and finding ways to support the many local schools and charities. And we love it when our customers exclaim "these are just like my grandma used to bake!"
Stop by sometime and see what's baking!
Jenny
Location & Hours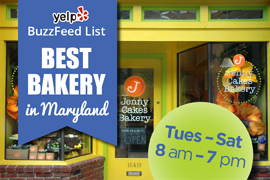 HOURS
Tuesday through Saturday 8 am - 7 pm
LOCATION
10419 Armory Avenue
Kensington, Maryland 20895
ORDER
Please visit our Menu & Order page. But, if you'd like to place a same day order (which we try our best to accommodate), call Jenny at 240-388-9989.
For special orders, email Jenny at jenny@jennycakesbakery.net.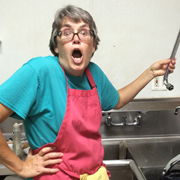 Connect With Us!

Like us on facebook
to receive our updates in your FB feed!

Follow us on Twitter

Email This Page

Read our 5 star reviews!