Connect With Us!

Like us on facebook
to receive our updates in your FB feed!

Follow us on Twitter

Email This Page

Read our 5 star reviews!
Quickly Fleeting Summer!
New blog post coming soon but new fall offerings have already been added to the Menu and Order tab!
I'm always amazed at how quickly summer goes by.  Seems like the kids are finally out of school and then in the blink of an eye it's August and things are winding down.  It's bittersweet, unlike EVERYTHING at the bakery this summer (tee hee — lame older woman joke).
Here's what's new for summer:
ICE CREAM SANDWICHES — one word, DECADENT
SCONES!  We've made them several times now and they're yummy!
GALI'S WHIMSICALLY FROSTED CUPCAKES.  See photos!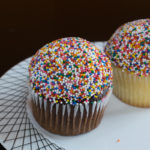 And here's what's returning at long last!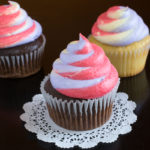 LEMON STUFF — the chilled lemon ricotta cookies and lemon bars.
BLUEBERRY CRUMB BARS — crumbly because of the butter in the crust, summery because of the fresh blueberries.
KEY LIME CUPCAKES WITH MANGO BUTTERCREAM — my new favorite cupcake.
Some other items will be taking a little siesta this summer but they'll be back, I promise! In the meantime, savor these summer days while we have them!
Jenny
Welcome to JennyCakes Bakery, a tiny bakery with a BIG heart! We opened in April 2012 with the hope of creating a cheerful place where people could buy baked goods that look and taste like food baked in a cozy kitchen at someone's home. We love it that we know the names and favorite orders of many of our customers. We love being nestled into such a bustling community and finding ways to support the many local schools and charities. And we love it when our customers exclaim "these are just like my grandma used to bake!"
Stop by sometime and see what's baking!
Jenny
Spring descended upon us quickly!  Seems like there was hardly a break between Valentine's Day and Easter and some great warm, sunny weather. Now — on May 16 — we've had a record-breaking stretch of rainy weather and the Caps lost in the second round.  But I know spring and then quickly summer will be here ANY…DAY…NOW.
Here's what's new at the bakery.
More technology

— Yes, I broke down and got internet service for the bakery as well as a computer so, if you're uncomfortable ordering through the website, we can do it for you right there at the bakery.

More employees

— Yes, we hired five new people. They're LOVELY!  (I've been watching a British mystery series while folding boxes; I suspect that's where the "LOVELY!" came from.)
Mary is a HUGE Caps fan — like bigger than me — and works hard every second she's at the bakery.
Melanie is a local mom and batter-making guru.
Diane is new to the area and frosts cupcakes like a pro already.
Jeffrey is the younger brother of Ingrid, one of our decorators; he's slowly getting used to working with lots and lots of women.
Troix, who has become our expert cookie ball and banana bread maker, is the new wife of our decorator Kristen.
Say hi to them next time you come in!
More orders

— We've hit yet another all-time high in terms of our weekly volume of business. Thanks, everyone!  I promise we're trying our best to keep the quality consistent and all the specifics of each order correct. But if we fail at this, please let me know, OK?
Now to the main reason you're reading this: the changes to our menu.
Returning: strawberry mini-loaves, cassata cake, strawberry ice box pies, LEMON cupcakes (because, as I've said before, you lemon cupcake people scare me when we don't have them on-hand), lemon bars and brown sugar cookies with pecans.  
New this spring: chocolate strawberry shortcake which has layers of chocolate cake and fresh strawberries, a touch of ganache in the middle, and whipped cream on top.
Retiring for now:  bran muffins with mixed dried fruit (we'll bring them back again next January to help with your New Year's resolutions), snickerdoodles (they're sort of a snuggle in bed wintertime thing, right?), Aunt Val's coffee cake (she had a productive but exhausting winter), pecan pie bars (too heavy for spring and summer, I think), dark chocolate cream pies (I actually miss these quite a bit, hmmm….), Boston cream cupcakes (fun winter thing) and rum cupcakes/bites/cakes (really more of a winter holiday treat).
Come by and see what's baking!  These days you can count on SOMEthing baking almost every second between 5am and 9pm.
Jenny
Coming up for summer:
key lime/mango cupcakes
lemon ricotta cookies
OUR ICE CREAM SANDWICHES