$25.00
This is our version of the flourless chocolate cake.  It's rich and very, VERY moist.  We make it with our best dark chocolate, and both the cake and the thin layer of ganache on top are flavored with a bit of coffee liqueur.  It does have dairy ingredients, and it is not kosher, but it's my understanding that it can be eaten at a Passover meal where no meat is served.  A perfect gift for the most ardent chocolate lover!
Location & Hours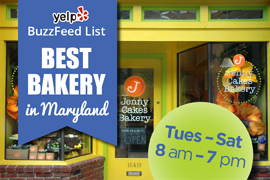 HOURS
Tuesday through Saturday 8 am - 7 pm
LOCATION
10419 Armory Avenue
Kensington, Maryland 20895
ORDER
Please visit our Menu & Order page. But, if you'd like to place a same day order (which we try our best to accommodate), call Jenny at 240-388-9989.
For special orders, email Jenny at jenny@jennycakesbakery.net.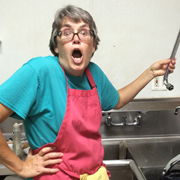 Connect With Us!

Like us on facebook
to receive our updates in your FB feed!

Follow us on Twitter

Email This Page

Read our 5 star reviews!