Welcome to JennyCakes Bakery, a tiny bakery with a BIG heart! We opened in April 2012 with the hope of creating a cheerful place where people could buy baked goods that look and taste like food baked in a cozy kitchen at someone's home. We love it that we know the names and favorite orders of many of our customers. We love being nestled into such a bustling community and finding ways to support the many local schools and charities. And we love it when our customers exclaim "these are just like my grandma used to bake!"
Stop by sometime and see what's baking!
Jenny
It's springtime and we're all about strawberries — strawberry ice box pie, strawberry bread, strawberry shortcake, strawberry buttercream.  I love seeing so much color in our cases!
I've been having a strange burst of desire to come up with new stuff for the bakery.  I love the challenge of prowling the internet for a recipe I like, making whatever changes I think will make it better, and then practicing it enough times that I know everything that can go wrong and how to fix it! Recent new things include: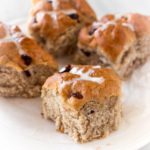 king cakes — loved the taste but will probably leave the decorating to my experts — Kristen and Ingrid — next year!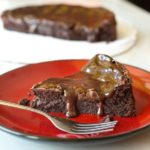 hot cross buns — a collaborative effort with bakery neighbors Steve and Anna McHale — I love these not too dense, not too fluffy, nicely browned, full of dried fruit buns
flourless chocolate cake — has a deep rich chocolate flavor with a REALLY moist texture — good for a non-kosher, non-meat meal during Passover and for true chocolate lovers any time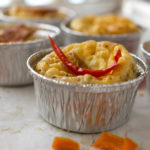 egg cups — we add veggies or sausage/bacon/proscuitto to a mixture of eggs, milk, cheese and lots of seasonings — a response to some customer feedback about having something else savory (besides the cheese muffins) available for breakfast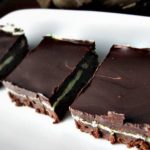 creme de menthe brownies — a layer of moist rich brownie, then a layer of mint buttercream, then a layer of chocolate ganache — seriously, what's not to LOVE?  Thanks to customer Elise LaPrade for encouraging us to make these!
April 5th marked our 5-year anniversary. We've come a long way from working with one 5-quart mixer in a space the size of a postage stamp (OK — that's a slight exaggeration) to the recent renovation of our new additional space and the recent purchase of a commercial 20-quart mixer!  Thank you to all of our wonderful customers who kept buying stuff from us — some of you have been with us for 5 years!  We couldn't have stayed open if you guys didn't keep coming!
I'm excited to introduce you to 8 more prized JennyCakes staff members!
Christine Tenorio — Christine is a student at Walter Johnson HS.  As you can see, she has a winning smile!  She also has a quiet, cheerful and calm disposition, which is VERY handy at a bakery as busy as ours. In addition to her stellar baking skills, she also loves to reorganize things — a quality I can TOTALLY relate to!
Henry Vaccaro — Henry is one of our truly treasured employees.  Every Thursday and Saturday morning, we all walk into the bakery and say "Ahhhhh" when we see how beautifully he's mopped the floor.  He is incredibly consistent and conscientious and goes the extra mile by reminding me when I'm out of something.  We are so grateful to him for the work he does!
Kat Duckworth — Kat is one of our newest staff members.  She has quickly fit right in and become a pro at making a wide variety of items at the bakery.  She's our current expert on baking banana bread, which is wonderful because we never seem to have enough of it!  Kat has two beautiful children and in her free time at home she likes to bake, frost and decorate beautiful cakes.  Go figure!  So far we've seen photos of two of her gorgeous cakes and we're looking forward to seeing more photos and hopefully getting her more involved in the decorating side of the bakery!
Kristen ("K") Perera — K (as we call her since we already have a Kristen!) walked into the bakery one afternoon and said "I'd like to work here" in a way that sort of sounded to me like "I'm going to work here".  And just like that she started working here!  She's a huge asset — catches onto things quickly, juggles lots at once, figures out on her own what needs to get done next.  Oh, and in addition to this job, she holds another full-time job at a pizza restaurant and volunteers at the Kensington Volunteer Fire Department.  We're lucky to have her for the hours that we do!
Martha Deale — Martha is an old, OLD friend of mine, or rather a LONG-TIME friend.  She's not THAT old.  🙂  She lived in the house directly behind us when we moved to Kensington 23 years ago!  The longevity of our friendship is conducive to lots of ribbing each other when we work together.   Martha knows more about the Nationals than anyone else I know.  And, bless her heart, she's also a Caps fan so Mary and I have someone to commiserate with during this difficult playoff season!
Mason Saphire — Mason came to JennyCakes and jumped right in with both feet.  Within half an hour of coming in for his try-out, we offered him the job.  We felt comfortable with him instantly and it seemed like he'd work here forever.  He's good at everything — from keeping track of orders to helping to frost and decorate cakes and cookies to making bars and quiche to helping customers.  He has a particularly nice manner with customers so he's starting to take the lead on answering the phone.  If you're lucky, you'll get to talk to him!
Susan VanHorn — Susan starting working at JennyCakes last fall.  A mother of two kids at Kensington Parkwood, Bonnie and I particularly enjoy the fact that she keeps us apprised of KP gossip.  She's a terrific worker and she has great baking common sense so she can do pretty much anything in the kitchen.  She has a wonderful manner with customers and seems to already know a rather huge number of people who come in. It's truly a joy to have her here with us at JennyCakes!
Vincent Wilson — Vincent not only makes our floors sparkle (literally and I'm not even kidding!) four times a week, but he helps with the gigantic chore of keeping us stocked in folded boxes. In addition, we recently found out how willing he is to help out in a pinch!  During a recent rainstorm our ceiling in back started to leak huge — and I mean like trash-can sized — amounts of water.  As we all pitched in to put buckets, trash cans and any other container we could find under the area where the water was leaking, I looked to my side and there was Vincent in there with us hauling water to dump outside, sweeping up water that leaked on the floor, adjusting all the buckets so they were under the worst leaks.  Needless to say, he's willing to go way above and beyond the call of duty and we so appreciate that!
Stay tuned for one more round of meet the JennyCakes staff.  Then you'll all be tested on their names and skills.  Get ready!
Jenny
Location & Hours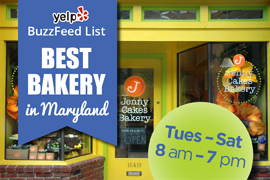 HOURS
Tuesday through Saturday 8 am - 7 pm
LOCATION
10419 Armory Avenue
Kensington, Maryland 20895
ORDER
Please visit our Menu & Order page. But, if you'd like to place a same day order (which we try our best to accommodate), call Jenny at 240-388-9989.
For special orders, email Jenny at jenny@jennycakesbakery.net.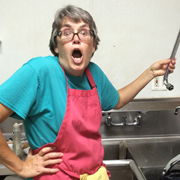 Connect With Us!

Like us on facebook
to receive our updates in your FB feed!

Follow us on Twitter

Email This Page

Read our 5 star reviews!