$3.00 – $6.00
Tiramisu!  I LOVE IT!  When I was a lawyer and didn't own a bakery, I actually had time to go out to a fancy restaurant from time to time.  When I did, it was always such a treat to try their tiramisu.  I did this a LOT during my first pregnancy many years ago!  Tiramisu has quickly become the thing at the bakery that I have trouble staying away from.  (Rum bites and frosted brownies — I'm OVER you, at least for now.)  I can't tell you how much fun it's been having the time to experiment with this!  This is what I've been aiming for and I think I'm coming pretty close:  a little bit of texture to the lady fingers while the rest is smooth and creamy, a definite coffee flavor, a little punch of alcohol, and a balanced fusion (makes me sound too fancy but I can't think of another word) of whipped cream, mascarpone cheese, eggy custard and cocoa. I hope you like it as much as I do!
Location & Hours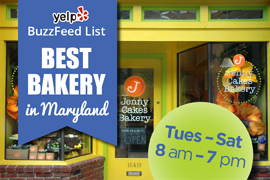 HOURS
Tuesday through Saturday 8 am - 7 pm
LOCATION
10419 Armory Avenue
Kensington, Maryland 20895
ORDER
Please visit our Menu & Order page. But, if you'd like to place a same day order (which we try our best to accommodate), call Jenny at 240-388-9989.
For special orders, email Jenny at jenny@jennycakesbakery.net.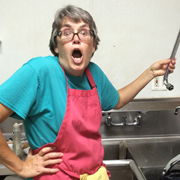 Connect With Us!

Like us on facebook
to receive our updates in your FB feed!

Follow us on Twitter

Email This Page

Read our 5 star reviews!