$5.00 – $35.00
I looked for a chocolate cream pie recipe for two years and finally found one I love about a month ago. This 9″ pie has a chocolate crumb crust. The filling is light and airy and dark chocolate flavored. We use the imported dark chocolate that we also use in the triple threat chocolate cookies. Everyone who has tasted this has loved it. Photo to come soon!
Location & Hours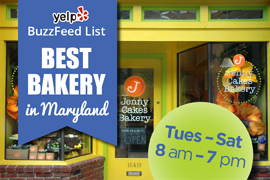 HOURS
Tuesday through Saturday 8 am - 7 pm
LOCATION
10419 Armory Avenue
Kensington, Maryland 20895
ORDER
Please visit our Menu & Order page. But, if you'd like to place a same day order (which we try our best to accommodate), call Jenny at 240-388-9989.
For special orders, email Jenny at jenny@jennycakesbakery.net.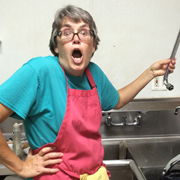 Connect With Us!

Like us on facebook
to receive our updates in your FB feed!

Follow us on Twitter

Email This Page

Read our 5 star reviews!