Modified schedule for Dec 22 to Jan 1

Fri  12/22

       

OPEN 8am to 7pm
Sat 12/23

       

OPEN ONLY FOR SPECIAL ORDER PICK-UPS so we can prepare Xmas orders 
Sun 12/24

     

OPEN 8am to 2pm
Mon 12/25     CLOSED so our staff can recover from the holidays!
to Mon 1/1

Tues 1/2        Back to our usual schedule – OPEN 8am to 7pm
What's Available at the Bakery Now

As we head into the holiday season, we are already stocking our cases with  lots of goodies, including jam thumbprints, pecan snowballs, Scottish shortbread, frosted sugar cookie bars, decorated Christmas cookies, chocolate cupcakes with peppermint buttercream, gingerbread boys and girls, and rum bites and cupcakes. 



Christmas Orders!
We hope to accept Christmas orders through Sun 12/17, unless we reach capacity before then. I will post something at the top of our website if we close out orders before Sun 12/17.
All orders must be picked up no later than 2pm on Sun 12/24. 
The specific items available for Christmas orders are listed below.
 

We hope you have a wonderful holiday!
 

Jenny
Christmas Goodies!
buche de noel  

pumpkin roll (with or without toasted pecans)

pecan pie (with or without bourbon)

apple pie with streusel

pumpkin pie

dark chocolate cream pie

key lime pie

any of our cakes

any of our smaller items, such as cookies and cupcakes, 

BUT ONLY IN BATCHES OF 12 OF A PARTICULAR FLAVOR/BAKED GOOD

 (or in batches of 24 if ordering mini cupcakes)
For the smaller items, if you would like a wider variety, please consider stopping by the bakery on Sun Dec 24 between 8am to 2pm.  We will be fully stocked with our usual items and you will be able to pick and choose. We would suggest you come early though because we are likely to sell out quickly. Thanks! 
As Doug and I were driving to the wedding of former JennyCakes employee Janine Joly, we started talking about all the great employees JennyCakes has had since it opened nearly 5 years ago. Doug thought we should have a section on the website that includes info on current staff as well as updates on where previous staff are now. I think this is a GREAT idea!
So below is part one of Meet the JennyCakes Staff (parts two and three to follow in the next two blog posts), but first I have to tell you about some new fun stuff at the bakery.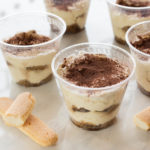 First, we've started making tiramisu!  It's so much easier than I thought and I love the process of perfecting it so that the coffee, custard, whipped cream, alcohol and soaked lady fingers come together in such a way that I'm hoping you'll have to say "oh my"!  We'll be selling tiramisu in double helpings so think about it for Valentine's Day!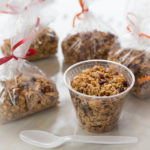 Second, we've started making granola!  We'll have two kinds: mine, which includes toasted pecans, dried cranberries, unsweetened coconut, maple syrup, honey, oatmeal, and Mary's which includes almonds, coconut oil, sunflower seeds, oatmeal, dried cherries and honey.  For a while, we'll be selling both in little bags ($1.50 each) with just 1 cup in them so you can try them out.  Later, we'll be selling bigger bags of it.
Third, a few old things have come back, including Boston cream cake and cupcakes
(made with the classic custard of egg yolks, fresh cream and butter in the middle and chocolate ganache on top), perennial favorite snickerdoodles, bran muffins with mixed dried fruit and toasted pecans, and triple threat chocolate cookies (yes, three kinds of chocolate!).
Come by and check out the new stuff!  See below for fun info about eight of our staff members!
Jenny
Bonnie Lutz — Bonnie has been with us since Labor Day 2012!  I remember cornering her at Kenmont Pool, after observing her get-it-done skills at the snack bar, and asking if she would consider (oh please please) working at JennyCakes. We are so lucky to have her!  She's the master of great customer service and efficiency.  She was sick one day and I had to fill her shoes.  I was so proud of myself when the entire cupcake case was nice and full and I could finally take a breath… until I realized she also handles all the cookies!  I have no idea how she does it all, but she does!  Little known fact about Bonnie:  her other job involves gardening!
Kristen Kellogg — Kristen is one of our amazing decorators.  She's been at JennyCakes since July 2013 so, like Bonnie, she's a long-timer!  Kristen has the gift of gab, which is especially appreciated when we bring new people in to check out the bakery and when we come in sleepy and non-communicative on Saturday mornings.  She brings to the bakery incredible exuberance, fierce opinions, and a scary amount of knowledge about Broadway musicals.  Amazingly gifted as a decorator, she's done phenomenal designs from a wonderful depiction of Darth Vader fighting Elsa (yes, someone requested this!) to a huge variety of My Little Pony designs.  And if you really want to make her happy, ask her about the musical "Title of Show" (it's her favorite).
Mary Williams — One beautiful spring day last year, a woman named Mary came to us!  She has been a tremendous asset to the bakery.  She's remarkably productive while somehow remaining kind, calm and compassionate (not something I accomplish very often — at least the calm part!).  She's an avid Caps fan (yes, that's the sport that allows hand to hand combat as a part of the game!) and knows everything you could want to know about CORSI, the most recent players brought up from or sent back to Hershey, which lines Trotz is running in the next game, etc.  Next time you come in, duck into the kitchen and see if a pretty woman with a high bun is at the mixers, and if she is, say "How 'bout those Caps?!?"
Ingrid Ramos — Ingrid, our other gifted decorator, has worked at JennyCakes since December 2014.  Immediately, she jumped right in and sometimes it scares me how reliant we all are on her to know what's happening at the bakery, where everything is, and how to do anything that needs to be done.  She does incredibly artistic and beautiful decorating, is super efficient, and has this wonderful aura of lightness and kindness that surrounds her.  She is the first to sense when someone is stressed or out of sorts (OK, that's usually me) and figure out a way to help.  If you want to make Ingrid's day, ask her how her new kitten is!
Karen Richardson — With us since September 2014, Karen has become the master of all cookies, bars and batters.  She is always eager to help me puzzle through ways to make the bakery run more smoothly.  Some of her favorite things are: daily walks with several long-time friends, visits to her sister in Boston, classic, jazz and blues music and old rock and roll, and sparring over politics with our wonderful former manager Gali Sapir.
Jim Gordon — Yes, you've seen him making pizzas at Frankly Pizza as well but he ALSO likes (at least a bit) doing a weekly stint at JennyCakes.  He handles our inventory and runs the front counter on Saturday mornings with incredible calm and poise, as in I've never heard him speak above a whisper!  Rumor has it that he likes the Halo series of video games so ask him about that next time you come in on a Saturday morning!
Melanie Donohue — Melanie has been with us since the spring of last year.  She's a local mom who works not only at JennyCakes but at Sage, a really cool store on Antique Row around the corner from us.  She brings with her lots of general baking knowledge and experience, as well as a very gentle and kind manner with other employees and customers alike.  Very fun thing: we've recently discovered she's amazing at decorating cookies and cakes!
Tully Hudson — We really lucked out on this hire! Not only does Tully have a wonderful manner with our customers at the front counter and a quickly-acquired acumen in the kitchen, but he's done a great job of supervising the preparation of the hundreds of boxes the bakery goes through each week.. Extra bonus: he keeps us stocked in toffee at Christmas. Funny how an entire bakery staff can be so excited about toffee in the face of so many other available goodies!
Location & Hours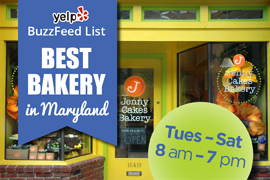 HOURS
Tuesday through Saturday 8 am - 7 pm
LOCATION
10419 Armory Avenue
Kensington, Maryland 20895
ORDER
Please visit our Menu & Order page. But, if you'd like to place a same day order (which we try our best to accommodate), call Jenny at 240-388-9989.
For special orders, email Jenny at jenny@jennycakesbakery.net.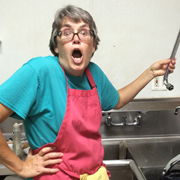 Connect With Us!

Like us on facebook
to receive our updates in your FB feed!

Follow us on Twitter

Email This Page

Read our 5 star reviews!