$2.00
Our usual crazy amount of experimenting went into these with the McHales on Armory Avenue serving as my official taste testers!  Really happy with these now — they're not too fluffy, not too dense, nice and browned on top, lots of dried fruit (cranberries, cherries, golden raisins, currants, depending on the batch), spices that you can taste in each bite, and enough orange zest to give them just a little zing.  Available through Easter.
Location & Hours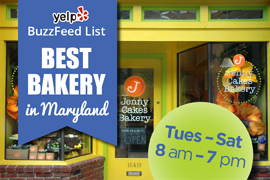 HOURS
Tuesday through Saturday 8 am - 7 pm
LOCATION
10419 Armory Avenue
Kensington, Maryland 20895
ORDER
Please visit our Menu & Order page. But, if you'd like to place a same day order (which we try our best to accommodate), call Jenny at 240-388-9989.
For special orders, email Jenny at jenny@jennycakesbakery.net.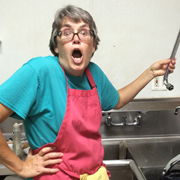 Connect With Us!

Like us on facebook
to receive our updates in your FB feed!

Follow us on Twitter

Email This Page

Read our 5 star reviews!