About Us
Quick Links: How We Started, JennyCakes Gives Back, Meet the JennyCakes Staff
Welcome to JennyCakes Bakery, a tiny bakery with a BIG heart! We opened in April 2012 with the hope of creating a cheerful place where people could buy baked goods that look and taste like food baked in a cozy kitchen at someone's home. We love it that we know the names and favorite orders of many of our customers. We love being nestled into such a bustling community and finding ways to support the many local schools and charities. And we love it when our customers exclaim "these are just like my grandma used to bake!"

Stop by sometime and see what's baking!
How We Started
I have been baking for years and years, from the chocolate chip cookies I made with my Mom many a weeknight in upstate New York to the endless batches of chocolate chip cookies I made with my own four kids. I always bake from scratch and use fresh ingredients, and I am always on the lookout for recipes that make goodies that not only look pretty but taste great.
When I learned of an opportunity to open my own bakery a half mile from my house, my daughters Geneva and Lily (then in 4th and 6th grade) campaigned hard for me to go for it. They wanted a place where they could meet friends on a cold afternoon and eat a warm chocolate chip cookie (their favorite of course). Given that I had no experience owning a business or baking professionally, this was a really nutty idea. But something kept compelling me forward, and now that we've been open a while, I couldn't be happier about the choice I made!
Jenny
JennyCakes Gives Back
We love being a part of this vibrant community and supporting our local schools and charities. As of October 1, 2013 JennyCakes has donated or supported in some way the following groups: A Wider Circle * Acorn Hill Waldorf Kindergarten and Nursery School * Albert Einstein High School 5K * Albert Einstein High School Yearbook * BCC High School PTSA * Cedarbrook Pool * Early Childhood Center, Inc. * Ellen's Run * Flora M. Singer Elementary School * Garrett Park Nursery School * Holton Arms School * Holy Child Tiger Trot * Holy Cross Church * Home School Talents * Kenmont Pool * Kensington Historical Society * Kensington Nursery School * Kensington Parkwood ES PTA – Kensington 8K * Learning Center for Young Children * Loiderman Middle School * Lowell School * Meals on Wheels of Wheaton, Inc. * Metropolitan Ballet Theatre and Academy * Mid-County United Ministries * Montgomery Art Association * North Bethesda Middle School * Noyes Children's Library Foundation * Oakland Terrace ES PTA * Rock Creek Forest ES * Rock Creek Valley ES * Saint Paul's United Methodist Church * Sandy Spring Friends School * Save Our Seminary at Forest Glen * Suburban Hospital * Temple Sinai Women of Reform Judaism * The Heights School * Junior Woman's Club of Chevy Chase * Vote for 6 – Marriage Equality in Maryland * Walter Johnson H.S. Education Foundation * Walter Johnson Winter Carnival * Woodlin Elementary School PTA * Wootton High School SGA
Meet the JennyCakes Staff!
Doug — When I proposed opening a bakery to my logic-driven husband Doug, he had all kinds of reservations. After lengthy discussions about the pros and cons of doing it, he finally said, "But it WOULD mean that on Mondays I could bring leftovers into my office. Hmmm…" That's when I knew he was on board. He has helped in every difficult aspect of owning and operating a bakery — from negotiating the initial lease and acquisition of equipment from the old bakery to dealing with a long-term incredibly-frustrating plumbing problem (which appears to at last be resolved) to figuring out how and whether to expand into the space next door. But most importantly, every three months or so he has found a way to calm down a wife who periodically falls apart because she is having trouble figuring out how to own and operate a bakery! He works every Saturday from 4 on, pretty much single-handedly washes and folds the millions of aprons and rags we use at the bakery, hauls nearly all of our recyclables home every week and does many more things around the house than I do even though he's a full-time partner at a law firm! Obviously, JennyCakes would not have happened and would not still be here today without the incredible amount of support he's given it. Thanks, honey!
Bonnie — Bonnie has been with us since Labor Day 2012! I remember cornering her at Kenmont Pool, after observing her get-it-done skills at the snack bar, and asking if she would consider (oh please please) working at JennyCakes. We are so lucky to have her! She's the master of great customer service and efficiency. She was sick one day and I had to fill her shoes. I was so proud of myself when the entire cupcake case was nice and full and I could finally take a breath… until I realized she also handles all the cookies! I have no idea how she does it all, but she does! Little known fact about Bonnie: her other job involves gardening!
Ingrid — Ingrid, one of our gifted decorators, has worked at JennyCakes since December 2014. Immediately, she jumped right in and sometimes it scares me how reliant we all are on her to know what's happening at the bakery, where everything is, and how to do anything that needs to be done. She does incredibly artistic and beautiful decorating, is super efficient, and has this wonderful aura of lightness and kindness that surrounds her. She is the first to sense when someone is stressed or out of sorts (OK, that's usually me) and figure out a way to help. If you want to make Ingrid's day, ask her how her new kitten is!
Kristen — Kristen is one of our amazing decorators. She's been at JennyCakes since July 2013 so, like Bonnie, she's a long-timer! Kristen has the gift of gab, which is especially appreciated when we bring new people in to check out the bakery and when we come in sleepy and non-communicative on Saturday mornings. She brings to the bakery incredible exuberance, fierce opinions, and a scary amount of knowledge about Broadway musicals. Amazingly gifted as a decorator, she's done phenomenal designs from a wonderful depiction of Darth Vader fighting Elsa (yes, someone requested this!) to a huge variety of My Little Pony designs. And if you really want to make her happy, ask her about the musical "Title of Show" (it's her favorite).
Mary — One beautiful spring day last year, a woman named Mary came to us! She has been a tremendous asset to the bakery. She's remarkably productive while somehow remaining kind, calm and compassionate (not something I accomplish very often — at least the calm part!). She's an avid Caps fan (yes, that's the sport that allows hand to hand combat as a part of the game!) and knows everything you could want to know about CORSI, the most recent players brought up from or sent back to Hershey, which lines Trotz is running in the next game, etc. Next time you come in, duck into the kitchen and see if a pretty woman with a high bun is at the mixers, and if she is, say "How 'bout those Caps?!?"
Karen — With us since September 2014, Karen has become the master of all cookies, bars and batters. She is always eager to help me puzzle through ways to make the bakery run more smoothly. Some of her favorite things are: daily walks with several long-time friends, visits to her sister in Boston, classic, jazz and blues music and old rock and roll, and sparring over politics with our wonderful former manager Gali Sapir.
Melanie — Melanie has been with us since the spring of last year. She's a local mom who works not only at JennyCakes but at Sage, a really cool store on Antique Row around the corner from us. She brings with her lots of general baking knowledge and experience, as well as a very gentle and kind manner with other employees and customers alike. Very fun thing: we've recently discovered she's amazing at decorating cookies and cakes!
Mason — Mason came to JennyCakes and jumped right in with both feet. Within half an hour of coming in for his try-out, we offered him the job. We felt comfortable with him instantly and it seemed like he'd work here forever. He's good at everything — from keeping track of orders to helping to frost and decorate cakes and cookies to making bars and quiche to helping customers. He has a particularly nice manner with customers so he's starting to take the lead on answering the phone. If you're lucky, you'll get to talk to him!
Tully — We really lucked out on this hire! Not only does Tully have a wonderful manner with our customers at the front counter and a quickly-acquired acumen in the kitchen, but he's done a great job of supervising the preparation of the hundreds of boxes the bakery goes through each week.. Extra bonus: he keeps us stocked in toffee at Christmas. Funny how an entire bakery staff can be so excited about toffee in the face of so many other available goodies!
Vincent — Vincent not only makes our floors sparkle (literally and I'm not even kidding!) 4 times a week, but he helps with the gigantic chore of keeping us stocked in folded boxes. In addition, we recently found out how willing he is to help out in a pinch! During a rainstorm our ceiling in back started to leak huge — and I mean like trash-can sized — amounts of water. As we all pitched in to put buckets, trash cans and any other container we could find under the area where the water was leaking, I looked to my side and there was Vincent in there with us hauling water to dump outside, sweeping up water that leaked on the floor, adjusting all the buckets so they were under the worst leaks. Needless to say, he's willing to go way above and beyond the call of duty and we so appreciate that!
Henry — Henry is one of our truly treasured employees. Every Thursday and Saturday morning, we all walk into the bakery and say "Ahhhhh" when we see how beautifully he's mopped the floor. He is incredibly consistent and conscientious and goes the extra mile by reminding me when I'm out of something. We are so grateful to him for the work he does!
Jim — Yes, you've seen him making pizzas at Frankly Pizza as well but he ALSO likes (at least a bit) doing a weekly stint at JennyCakes. He handles our inventory and runs the front counter on Saturday mornings with incredible calm and poise, as in I've never heard him speak above a whisper! Rumor has it that he likes the Halo series of video games so ask him about that next time you come in on a Saturday morning!
Kristen ("K") — K (as we call her since we already have a Kristen!) walked into the bakery one afternoon and said "I'd like to work here" in a way that sort of sounded to me like "I'm going to work here". And just like that she started working here! She's a huge asset — catches onto things quickly, juggles lots at once, figures out on her own what needs to get done next. Oh, and in addition to this job, she holds another full-time job at a pizza restaurant and volunteers at the Kensington Volunteer Fire Department. We're lucky to have her for the hours that we do!
Gabi — Gabi came to us when she was just 14 through an internship program at her school, The Siena School. One cold, dark night when her mom was picking her up from her internship, I remember running out to her car to ask her mom how much free time Gabi had during the year because I REALLY wanted to hire her RIGHT THEN! And when I get a bee in my bonnet, it's hard to distract me. 🙂 So, since her internship Gabi has worked for us, fitting us in around an already busy school schedule. Now, at the ripe old age of 16, she is essentially in charge of the final weekly clean-up of the bakery every Saturday afternoon.
Martha — Martha is an old, OLD friend of mine, or rather a LONG-TIME friend. She's not THAT old. 🙂 She lived in the house directly behind us when we moved to Kensington 23 years ago! The longevity of our friendship is conducive to lots of ribbing each other when we work together. Martha knows more about the Nationals than anyone else I know. And, bless her heart, she's also a Caps fan so Mary and I have someone to commiserate with during this difficult playoff season!
Susan — Susan started working at JennyCakes last fall. A mother of two kids at Kensington Parkwood, Bonnie and I particularly enjoy the fact that she keeps us apprised of KP gossip. She's a terrific worker and she has great baking common sense so she can do pretty much anything in the kitchen. She has a wonderful manner with customers and seems to already know a rather huge number of people who come in. It's truly a joy to have her here with us at JennyCakes!
Christine — Christine is a student at Walter Johnson HS. As you can see, she has a winning smile! She also has a quiet, cheerful and calm disposition, which is VERY handy at a bakery as busy as ours. In addition to her stellar baking skills, she also loves to reorganize things — a quality I can TOTALLY relate to! Christine will be going to Costa Rica for three weeks this summer to teach at schools as well as rebuild facilities for children.
Kat — Kat is one of our newest staff members. She has quickly fit right in and become a pro at making a wide variety of items at the bakery. She's our current expert on baking banana bread, which is wonderful because we never seem to have enough of it! Kat has two beautiful children and in her free time at home she likes to bake, frost and decorate beautiful cakes. Go figure! So far we've seen photos of two of her gorgeous cakes and we're looking forward to seeing more photos and hopefully getting her more involved in the decorating side of the bakery!
Lily — Lily, my daughter who is now age 17, helped convince me to open the bakery way back in 2012 when she was 12. Our brains are scarily in sync. When we work together at the bakery, I'll say, "Lily, can you…" and before I get any further with my question, she'll say, "Yep, I did that" and she has! She appears to have inherited my organizational gene and is great at keeping track of things and figuring out what needs to happen next.
Geneva — Geneva, my daughter who is now age 15, helped convince me to open the bakery way back in 2012 when she was 10. She knows how to do literally everything at the bakery from checking the oven to doing dishes to making batters to answering the phone to running the front counter. But she won't let me pay her. Her reasoning cracks me up: she doesn't want the pressure of keeping up with her bakery work at the expense of being able to chat with everyone there! When we first opened, one of my favorite things was to listen to Geneva and Kara Knips (a beloved bakery alum) play the "Question Game".
Geva: Kara, what's my favorite color? Kara: Green. Geneva: Right!
Kara: Geva, what do I plan to have to eat at my wedding reception. Geva: a Chipotle buffet! Kara: Right!
The game spilled over to other people at the bakery and became a fun way to get to know each other during the somewhat quiet hours of Sat morning before it got crazy. And by the way, Kara is getting married sometime around New Year's and she is NOT having a Chipotle buffet!
Anna (pronounced Ah-na when you see her!) Martindill joined us last fall after I saw a cake she did on facebook with buttercream rosettes. Because she has been very active in ice hockey, dance and lots of Einstein HS activities, we haven't been able to involve her much in the decorating side of things yet, but hopefully we'll be able to do that a bit this summer. During the course of this year, she has demonstrated that she's a hard worker on Saturday afternoons when we do our weekly "deep cleaning" of the bakery, but she's not above having a bit of fun. Rumor has it that on occasion she will do a few dance steps or a cheer routine back there in the kitchen when she thinks no one but Gabi is looking. 🙂
Samantha Phillips began working at JennyCakes this past spring. She is a fierce froster of cupcakes and great at keeping track of what is needed in our cases. She's incredibly smart, hard-working and fastidious about getting done what needs to get done. I can hand her a list of outstanding orders on Saturday morning and an hour later, everything is completed and done perfectly. We are really going to miss her when she heads to the College of William and Mary in the fall.
Payton — We sure wish we found Payton earlier than a couple months before her graduation from WJHS! Such a find. AMAZING at frosting and decorating our very popular cut-out cookies (much to the relief of Ingrid and Kristen who had been splitting their time between 10,000 cakes and the cut-out cookies), quick to catch onto all the ins and outs of the bakery, great under pressure and fun to be around, she has been a HUGE asset. We will be really, really sad when she heads to the University of Charleston in the fall and we REALLY wish her university would ease up on the amount of time given to students for vacation so she can come back and work for us more during her breaks. Is that selfish?

Location & Hours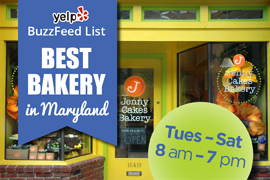 HOURS
Tuesday through Saturday 8 am - 7 pm
LOCATION
10419 Armory Avenue
Kensington, Maryland 20895
ORDER
Please visit our Menu & Order page. But, if you'd like to place a same day order (which we try our best to accommodate), call Jenny at 240-388-9989.
For special orders, email Jenny at jenny@jennycakesbakery.net.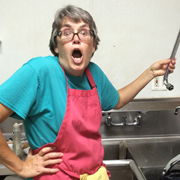 Connect With Us!

Like us on facebook
to receive our updates in your FB feed!

Follow us on Twitter

Email This Page

Read our 5 star reviews!