How We Started
I have been baking for years and years, from the chocolate chip cookies I made with my Mom many a weeknight in upstate New York to the endless batches of chocolate chip cookies I made with my own four kids. I always bake from scratch and use fresh ingredients, and I am always on the lookout for recipes that make goodies that not only look pretty but taste great.
When I learned of an opportunity to open my own bakery a half mile from my house, my daughters Geneva and Lily (then in 4th and 6th grade) campaigned hard for me to go for it. They wanted a place where they could meet friends on a cold afternoon, drink hot chocolate, and eat a cupcake. Given that I had no experience owning a business or baking professionally, this was a really nutty idea. But something kept compelling me forward, and now that we've been open a while, I couldn't be happier about the choice I made!
Jenny
JennyCakes Gives Back
We love being a part of this vibrant community and supporting our local schools and charities. As of October 1, 2013 JennyCakes has donated or supported in some way the following groups: A Wider Circle * Acorn Hill Waldorf Kindergarten and Nursery School * Albert Einstein High School 5K * Albert Einstein High School Yearbook * BCC High School PTSA * Cedarbrook Pool * Early Childhood Center, Inc. * Ellen's Run * Flora M. Singer Elementary School * Garrett Park Nursery School * Holton Arms School * Holy Child Tiger Trot * Holy Cross Church * Home School Talents * Kenmont Pool * Kensington Historical Society * Kensington Nursery School * Kensington Parkwood ES PTA – Kensington 8K * Learning Center for Young Children * Loiderman Middle School * Lowell School * Meals on Wheels of Wheaton, Inc. * Metropolitan Ballet Theatre and Academy * Mid-County United Ministries * Montgomery Art Association * North Bethesda Middle School * Noyes Children's Library Foundation * Oakland Terrace ES PTA * Rock Creek Forest ES * Rock Creek Valley ES * Saint Paul's United Methodist Church * Sandy Spring Friends School * Save Our Seminary at Forest Glen * Suburban Hospital * Temple Sinai Women of Reform Judaism * The Heights School * Junior Woman's Club of Chevy Chase * Vote for 6 – Marriage Equality in Maryland * Walter Johnson H.S. Education Foundation * Walter Johnson Winter Carnival * Woodlin Elementary School PTA * Wootton High School SGA
Location & Hours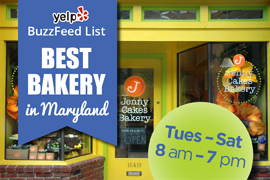 HOURS
Tuesday through Saturday 8 am - 7 pm
LOCATION
10419 Armory Avenue
Kensington, Maryland 20895
ORDER
Please visit our Menu & Order page. But, if you'd like to place a same day order (which we try our best to accommodate), call Jenny at 240-388-9989.
For special orders, email Jenny at jenny@jennycakesbakery.net.
Connect With Us!

Like us on facebook
to receive our updates in your FB feed!

Follow us on Twitter

Email This Page

Read our 5 star reviews!